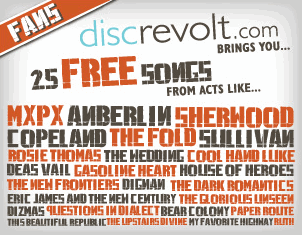 Where can you get 25 FREE songs from your favorite Christian artists? From a website called DiscRevolt (www.discrevolt.com), that's WHERE!
They've partnered with Cornerstone Festival and are co-sponsoring the New Band Showcase at this year's festival on June 25-30 in Bushnell, IL.
Just go to www.discrevolt.com and enter the code "cornerstone2007" to redeem your 25 free songs. You'll be prompted to create an account, which I've already done and am downloading my 25 free songs as you read this.
If you're an artist yourself, you can also get 100 DiscRevolt download cards to help promote your own album if you'd like as another special offer.