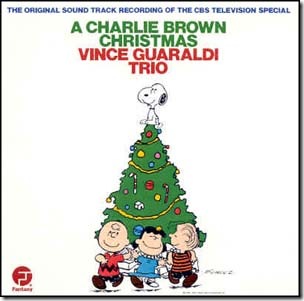 Possibly one of the best jazz Christmas albums, if not any Christmas album is the "A Charlie Brown Christmas" from the Vince Guaraldi Trio.
Timeless jazzy interpretations of Christmas standards that served as the background music for a classic TV show that originally aired as a CBS television special that is as much of a standard for me this time of year as "It's A Wonderful Life".
If you're looking for another great album to put in the rotation this holiday season, this is a must have for the holidays to put you in the Christmas mood.
Here's a listing of the tracks on the album:
O Tannenbaum
What Child Is This
My Little Drum
Linus and Lucy
Christmas Time Is Here (instrumental)
Christmas Time Is Here (vocal)
Skating
Hark, The Herald Angels Sing
Christmas Is Coming
Fur Elise
The Christmas Song
Greensleeves
The musicians on the album include:
Vince Guaraldi – piano
Fred Marshall – bass
Jerry Granelli – drums (#12 only)
Monty Budwig – bass
Colin Bailey – drums
I was trying to find out who the vocalists were on the album. I'm not sure if it was the voices from the actors in the cartoon or not. If someone know if this is correct or not, please let me know in the comments.
Album Cover Image Source: Music from the Movies