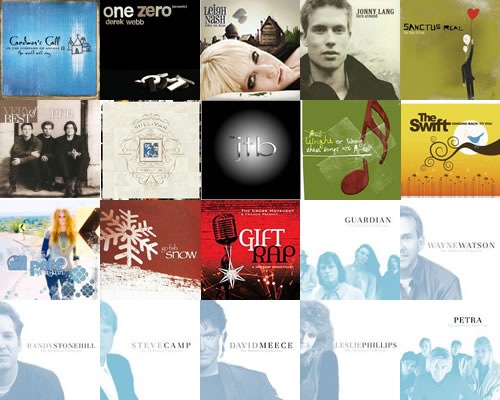 I picked up a load of new CD's from my local Christian book store this weekend. Here's the list of albums I picked up. I got a great deal on them out of a bargain bin where they were packaged in bricks of 5 CD's each.
Sanctus Real – the face of love
Jonny Lang – turn around
Go Fish – snow
The Cross Movement – Gift Rap: A Hip Hop Christmas
Derek Webb – one zero (acoustic)
Caedmon's Call – In the Company of Angels II: the world will sing
Jill Parr – Me again
Leigh Nash – blue on blue
Paul Wright – Wright or wrong these songs are Paul's
The Swift – Singing Back to You
Sullivan – Cover Your Eyes
the jtb – Everything is Nothing
pfr – The Very Best of PFR
Leslie Phillips – The Definitive Collection
David Meece – The Definitive Collection
Steve Camp – The Definitive Collection
Petra – The Definitive Collection
Wayne Watson – The Definitive Collection
Randy Stonehill – The Definitive Collection
Guardian – The Definitive Collection
I'm absolutely pumped for the albums I've bolded above. Some of my favorite artists or artists that I've been wanting to listen to more and get to know. Derek Webb and Caedmon's Call are obvious, along with PFR. Love Sixpence None the Richer, so grabbing Leigh Nash's solo project was a nice find. Always interested in Petra and Gaurdian, but can't believe the Guardian album didn't include "I Found Love", "Sweet Mystery" and "The Captain" from their "Miracle Mile" album.
Some of the people I didn't bold above I'm not real familiar with, anyone know some of the artists and let me know what I can expect from them?