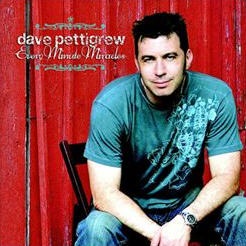 Dave Pettigrew is another artist I've been listening to lately and really enjoying. Sadly I've taken far too long to put my thoughts about the album down in type.
The tone of his message and lyrics are a refreshing breath of the basics of our beliefs and how we feel towards the blessings we've been given. His music and lyrics strongly remind me of Steven Curtis Chapman. I'm not the only person who thinks that either, as after reading other reviews of his music, others were stating the same thing.
His album "Every Minute Miracles" he weaves a tapestry of the various feelings and meanings behind this Christian life, while reminding us that the Christian life is a 24×7 one. Not something to be pulled out on the weekends and at the places we show it. Each song reminds me in a different way of what God means to me and how He impacts (or should be) every area of my life.
Change (Follow Me)
Big Enough
God's TV
Proof of You
The Best That He Can Be
With My Faith
What Would I Do
Something More
All I Need Is You
Wonderful Maker
Some of my favorite songs on the album are bolded above. But I've got to mention the beautiful "All I Need Is You". It's such a warm ballad, but on the song there's an amazing saxophone accompaniment that should be noted is played by Dave as well. The album closes with a familiar chorus of "Wonderful Maker".
I'm not sure why we haven't heard more of Dave Pettigrew. These are exactly the artists that I wish more Christian radio stations were bringing to the public's attention. So, since you can't rely on K-LOVE to share some new music with you, go visit Dave's website at www.davepettigrew.net and get more information about him and his music.