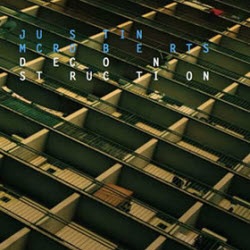 I'm going to make a strong comment in this review but I've been thinking about it now for the last few weeks as I've listened to more and more albums.
Justin McRoberts is the absolute best independent Christian music male artist I've heard since I've been blogging here at Christian Music Fan.
I received his album "Deconstruction" for review a number of weeks ago and I just can't stop playing it over and over and telling everyone I know about him and this album. His clean and clear vocals really remind me a lot of Derek Webb, and his straight to the heart and mind lyrics continue the similarities. The talent isn't just a mirroring of Webb though. Justin really brings a folksy touch to the sound that's just lovely.
It's not going to sound like a compliment, but I'm going to say this because I think there will be a number of people that will immediately get the connection and sound description. His solo vocals and guitar playing in the folk music style really reminds me recent American Idol contestant Jason Castro. Obviously much more performance experience and talent than Jason, but the melody of his singing immediately brought that to mind.
The album consists of 13 tracks that all tell a wonderful story:
Done Living
America and the Soul
A Hope Deferred
Driving by the Accident
Deconstruction
When it Don't Come Easy
Religion Poisons Everything
On the Night You Were Betrayed
Bullhorn Theory
Hope is Where We're Starting From
Common Sense
Until There Is No More Tomorrow
My Only Victory
With lyrics like…
"..the question isn't if you're going to suffer anymore, but what will it have meant when you are through. The question isn't if you're gonna die, you're gonna die. Will you be done living when you do?"
on the song Done Living
and
"you curse the very ground upon which you are walking, to prove the point that you're no longer walking on the ground. If it's absurdity you find in my believing, tell me more what's more absurd than believing in your doubts."
on the track Religion Poisons Everything.
If you get this album I think I can pretty clearly guarantee that you won't be disappointed in what you receive.
To give you just a taste, here's a video of Justin McRoberts performing "Religion Poisons Everything". Now I'm off to review his concert schedule and see if there's any way on earth I can make it to one of his shows.
To enjoy more videos of Justin performing songs from this album just follow this link to his profile on YouTube. He's posted the video of each song from his entire album. You've got GOT to take advantage of this and experience the music of this guy. He is tremendous!