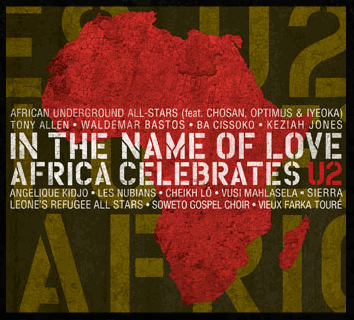 Over the past year I've developed a new appreciation and enjoyment for the music of U2. I also have a few different contacts with musicians that have connections to Africa. When I heard about "In the Name of Love: Africa Celebrates U2" I knew I had to get the CD and listen to it.
As soon as I slid this disc into my CD player in the car, I knew I wasn't going to be disappointed.
The music and rhythms and lyrics were comfortably familiar, but the voices and instruments were unique and beautiful all in their own right. The title track was even featured on Thursday night's episode of American Idol. The song played during the segment with Forest Whitaker and his wife, Keisha Whitaker.
The rest of the album is filled out with these other favorites from U2. Although each song on the album connects with me in some way, the tracks I've bolded stuck out to me, they're some of my favorite U2 songs in general as well:
Mysterious Ways – Angelique Kidjo
Bullet the Blue Sky – Vieux Farka Toure
Sunday Bloody Sunday – Ba Cissoko
Sometimes You Just Can't Make It On Your Own – Vusi Mahlasela
Where the Streets Have No Name – Tony Allen
I Still Haven't Found What I'm Looking For – Cheikh Lo
One – Keziah Jones
With Or Without You – Les Nubians
Pride (In the Name of Love) – Soweto Gospel Choir
Seconds – Sierra Leone's Refugee All Stars
Desire – African Underground All-Stars
Love Is Blindness – Waldemar Bastos
You can visit the "In the Name of Love: Africa Celebrates U2" to purchase the album as well as hear the songs play through their site. You can also visit Amazon.com to listen to each track sample as you choose.
My wife and I just caught U23D at IMAX before it leaves town as well. That's a great show if you've got the opportunity to see it.
I'm just enjoying the music of U2 more and more and this CD is absolutely fantastic if you like U2 and enjoy world music. It's a great combination of the two and provides the opportunity to hear artists and musical groups from all over the continent of Africa.
It's a definite purchase!