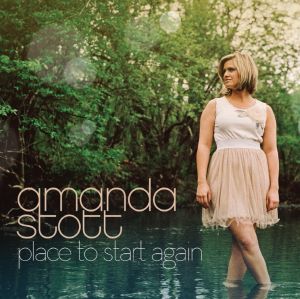 Amanda Stott has a great voice, and her 2011 album, Place to Start Again, showcases it well.
The Canadian singer moved to Nashville a few years ago to pursue a solo career, following a self-titled country debut (2000) and pop follow-up (Chasing the Sky, 2005). Released independently, Place to Start Again takes Stott in a new direction, artistically and creatively. It's the right direction.
This faith-centered collection of songs is a simple affair, framed mostly by piano and strings. Stott takes listeners on a tour of the highs and not-too-lows of her spiritual journey (even when singing about tough times, she never gets too downbeat – an alternate title for the album might have been Don't Stop Believin').
Four tracks stand out. Stott smartly opens the album with "Rest," an ode to the peace and security that come from knowing, and being known by, God. "Need the Fire," meanwhile, is the cry of a believer longing to have her spirit renewed within: "Ignite my heart / And melt the parts that keep freezing in the cold / I still need the fire / Fill these bones/ So you'll be known / Burn my pain away."
On the title track, Stott wades into cliché ("You'll find there's so much more to life than you've ever known / When you open up your arms and let him in / You'll have a place to start again"), but she sings it beautifully, and the arrangement works.  
"Walk With Me" is the catchiest tune of the bunch. For reasons I can't explain, the song makes me want to grab a top hat and cane and dance my way down the street. She comes close to cutting loose on this one and almost having, well, fun. Maybe next time.
What Place to Start Again is missing is top-notch songwriting – a breakthrough hit that convicts while tugging at the heartstrings, like Amy Grant's "My Father's Eyes," or captures the imagination, like Chris Rice's "Deep Enough to Dream."
That's not to say the album's eight songs, co-written by Stott, are weak. But the lyrics rarely rise above those of the garden-variety songs populating today's Christian radio. They are nice, they are pleasant, but they are vanilla. Stott need not be edgy, but she doesn't want to be forgettable, either. She needs material as mature as her voice.
It's frustrating, really, to hear her fall back on dull metaphors ("I've been in a season / Where the leaves are changing," "I was caught in the pouring rain / Nowhere to go / Lost and afraid") and painfully primitive phrases ("You're everywhere / You're always there," "Right now things seem hopeless / This is not where I wanted to be / And I feel like every time I try my hardest / It's no use / But I still believe").
With the right song, Stott could find herself in the spotlight. Perhaps her new single – "Send Me" – now available on iTunes – will do the job. (Full disclosure: I haven't downloaded it yet, but I will.)
Shortcomings aside, I liked Place to Start Again, but I enjoy Stott's voice far more. Here's hoping this album was just a warm-up exercise.
Place to Start Again Track List
Rest
My Only Hope
I Still Believe
Walk With Me
Fall Behind
Sail On
Need the Fire
Place to Start Again
Connect with Amanda Online
Website | Instagram| YouTube | Twitter | tumblr | Vimeo | Facebook
Matt's bio should be here. Somebody should ask him to write one for us!