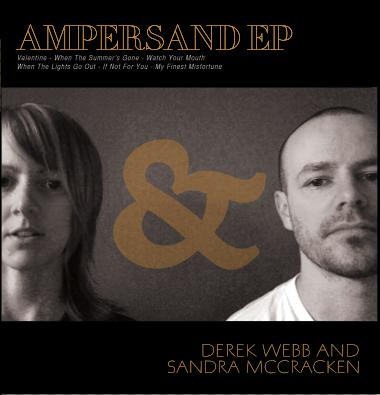 I've got to say that one of my surprise finds since I've been blogging here at Christian Music Fan is Derek Webb. I had heard his music before via Caedmon's Call, but hadn't experienced any of his solo work. His lyrics are piercing and full of Truth.
What I didn't realize when I wrote about Derek Webb's musical premiere on Grey's Anatomy was that the songwriter, Sandra McCracken is Derek's wife. Durh!
Now the two have collaborated on more together than just a family, they've releasing their own album titled "Ampersand EP". Here's a bit about their story:
Eight years ago, singer/songwriter Derek Webb was making a routine coffee run for his Caedmon's Call band mates when he heard Sandra McCracken, playing from the stage of the small Nashville coffee shop. Struck by McCracken's voice and songwriting, Webb picked up a copy of her debut record and played it for the band. When Caedmon's extended an invitation to McCracken to join them on the road, she and Webb discovered they were kindred spirits and soon began planning a future together. A future that now includes two solo careers, eight Derek Webb records, five Sandra McCracken records, and a newborn son.

But even after eight years of personal and professional collaboration, thirteen albums, a marriage, and a new baby, the one thing McCracken and Webb had never done together successfully was write songs. Until Now.

The result is Ampersand EP, a record that's as sublimely melodic and superbly crafted as anything either artist has ever recorded, but one which reveals the couple in a surprisingly intimate and stunningly soulful new light.
So here's my question now, is it Derek that's writing the powerful lyrics or is Sandra the powerful writer behind the man?