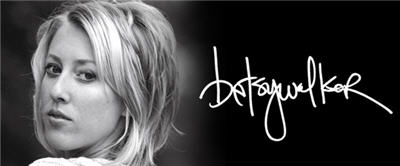 Another album I've come across in the past few weeks was "Lovely" by Betsy Walker. Betsy is the cousin of another friend of mine that's also a singer, Holly McDaniel. Holly let me borrow one of her CD's to listen to and review on this site. I can't tell you how many times I've listened to it over and over.
Betsy Walker is so talented and has an amazing spirit about her. I haven't met her in person yet, but I'm trying to figure out how I can make it up to the northside of Indianapolis and check her out in concert at Higher Grounds Coffee House tomorrow night.
Betsy's sound reminds me of Sarah McLaughlin, Jewell, Nichole Nordeman and Tiffany Arbuckle of Plumb. Her lyrics and songwriting are intriguing and really bring you into the story of the song. Visit Betsy's website to get a taste of her beautiful vocals and be sure and watch the video clip available in her bio section. As I said before, just hearing her music and watching her bio video makes you feel like you've known her forever.
Betsy was happy enough to give us a little more information about her in an e-mail interview I completed with her earlier. If you're a fan of "Inside the Actor's Studio" you'll recognize some of the questions, but I've always enjoyed the answers that were provided and thought I'd like to hear musician's answers to the same questions. If you've got questions you'd like to ask an artist, be sure and let me know and I'll add them to future artist interview sheets.
Without further delay here's the Christian Music Fan Artist Interview with Betsy Walker
What is your favorite word?
lovely
What is your least favorite word?
no
What turns you on creatively, spiritually or emotionally?
the Holy Spirit ultimately. Although i am often inspired by circumstances or emotions that i experience…hurts that i feel, or truths that need to be shared.
What turns you off?
trying to write for radio. When i try to write a 3 and half minute radio hit with a hooky chorus and easy lyrics i don't feel like myself…it feels too much like a game.
What sound or noise do you love?
an orchestra tuning…especially the sring section…it's the anticipation of something beautiful
What sound or noise do you hate?
alarm clocks and cliches (it's a tie)
What profession other than your own would you like to attempt?
hiphop dancing
What profession would you not like to do?
anything that requires getting up before 8am
What would you like to hear God say when you arrive at the Pearly Gates?
Well done Betsy, you were a good and faithful servant…i put a dance floor in your mansion ;)
What was your first job?
teaching piano lessons
Why did you sign with a Christian label instead of a mainstream label?
i'm indie as of now…but i would sign with Christian label as opposed to mainstream because i feel called to sing to the church..to each their own.
If we could see your current music playlist right now, who would we find?
Nicole Nordeman, Black eyed peas, norah jones, ben folds, john mayer.
What was the greatest challenge you've overcome in order to pursue music?
Not giving up when progress seems so slow. I feel a lot of pressure, mostly from myself, to be successful at what i'm doing. i feel like i've been given the tools and the life circumstances to really make a good run of this but it can be so discouraging when i look at the calendar as see too many open dates.
What was the greatest challenge you've had in your life personally?
I battle with depression…i think you can hear that struggle in many of my songs. But i'm a fighter and the Lord is giving me victory over my emotions slowly but surely.
What's your favorite cartoon character?
i don't like cartoons
Favorite movie?
While you were sleeping
Favorite TV show?
The office
Favorite comedy?
While you were sleeping
What is your favorite childhood memory?
playing outside with my brother and the neighborhood kids when we lived in california. we had a fun group…it was a magical time.
Were you chosen for any Senior Superlatives in your high school yearbook?
best smile. most likely to become famous
Thank you Betsy for a great interview! I look forward to meeting you in person and hopefully announcing to the world when you sign your first major record deal.