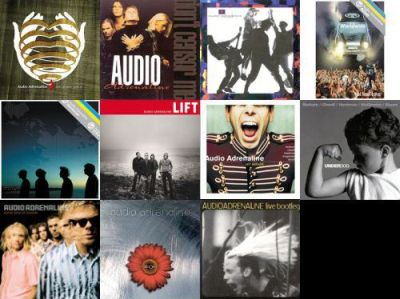 One of the first Christian music artists I ever really listened to growing up was Audio Adrenaline. For me Newsboys and Audio Adrenaline were the actually cool Christian groups that I might get my friends to listen to and respect their music. Now after a long, productive and successful career, the guys are calling it a wrap for the group. The move is led by their lead singer still struggling with his voice. Understood given the decade and a half they've been rocking venues and music festivals.
Although retiring due to front man Mark Stuart's ongoing vocal challenges, the band has since 1991 taken a full throttled blast of musical passion, melded it with a compassionate desire to impact the world at large and added members' rock-solid grounding in reality with their vulnerable, no holds barred songwriting. Thanks to earnest performances and undying appreciation for its fans, the group has sold over three million records and racked up 18 No. 1 singles and four Dove Awards. The band's Bloom recording was certified Gold by the RIAA in 1999 and they were awarded the prestigious "Song of the Decade" crowning in the 90s for "Big House" by CCM Magazine.
One of my favorite songs of Audio Adrenaline, wasn't one that got a lot of airplay. It was "Scum Sweetheart" from their "Don't Censor Me" album. The lyrical work reminds me of the in the face kind of thoughts that Derek Webb challenges me with today.
Scum Sweetheart lyrics 
We walk hand in hand 'til life does us part
me and the world my scum sweetheart
We met long ago with a flirt and a stare
together ever since a lethal love affair
I tried to get out to get up and go
I was afraid of the fall the vertigo

You made me suffer guilt was your game
you had control of what I became
A rotten romance if I'd stayed I'd die
t'was a fond farewell when I said goodbye
Now I'm free on solid ground
no more of you pushing me around me around

CHORUS
You're my scum sweetheart
You're the world you broke my heart
You're my scum sweetheart
You're the world you broke my heart

You're the world full of lies
how could I think of compromise?
It seems to me a solitaire affair
I was in need but you didn't care
Please stay away heartbreaker
you're not gonna be my soul taker
I've got friends that want to see you
they'd stay away if they had a clue

It's a black heart that I see
it's evil it'sbad and all in between
Whatever it is I'll do my part
to keep you from being their scum sweetheart
I sang that in church once when I was in Florida doing a Spring Break ministry to youth. I think it went over pretty well.