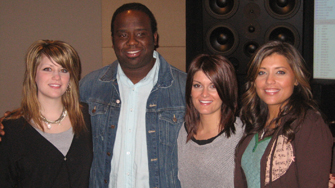 With hits from their first album like "On My Own" and "You Led Me", Barlow Girl has quickly made a great group of fans loyal followers. Band members Lauren Barlow, Alyssa Barlow and Rebecca Barlow  have just completed their newest album with producer Otto Price.
The work was done at Paragon Studios in Franklin, TN. This is interesting because Paragon Studios is owned and operated by my old roommate from my days as a bachelor living in Franklin and Nashville after college.
Barlow Girl has gotten some great news and acknowledgements lately.
In addition to preparing for this summer's album launch, BarlowGirl was selected as the National Day of Prayer – 2007 Youth Ambassador. The girls further joined other renown artists Lisa Kimmey (Out of Eden), Leigh Cappillino (Point of Grace) and David Leonard (Jackson Waters), for the recording of the new song, "We Pray," specifically written and recorded for National Day of Prayer, which is set to take place May 3. "We Pray" will further impact radio March 30.
You can follow-up with more of their story behind the recording here.