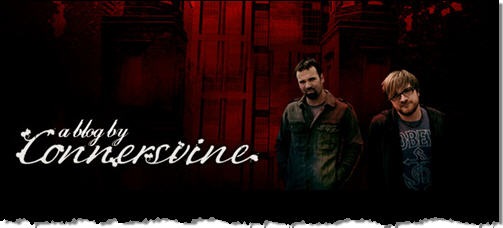 I heard a story once that after Connersvine had been singing awhile, Chris asked his singing partner, "Now what is it exactly you do again?". His partner then explained that he was a kicker for the World Champion Indianapolis Colts, none other than Hunter Smith. A friend of mine from church used to be in a Bible study I believe. He said he's a really down to earth guy.
Now being an Indianapolis boy and sitting in downtown Indianapolis right at this moment within site of the RCA Dome, I only find it fitting to highlight the Connersvine blog that both Hunter and Chris actively are writing.
Like the MercyMe blog I covered recently, Chris and Hunter do a great job of really giving you an inside view what their lives are like being a part of Connersvine as well as just being two guys trying to live the best life of Christ they can. They accomplish their feat by posting regularly and sharing photos and videos as well.
Here's a recent post by Hunter Smith:
I love country music. Chris does not love country music. If you get to know us you will find out that we both agree on the virgin birth, the redemption of God through Jesus, and the hope of eternal life. That's about it. (oh yeah,……and Waffle House) We are extreme men that God saw fit to yoke together for a particular expression of ministry and music in our generation. It is our extremes that make Connersvine happen. As long as we are making albums there will be hints of rock, folk, country, soul, pop, and all kinds of indie stuff. That is who we are musically. Connersvine is a melting pot of influences, and I'd have it no other way.
Looks like I'm siding with Chris on this one, not a big fan of country music but I can appreciate a good country song every now and then.
If you want to get another inside view of life as a Christian music artist, check-out the Connersvine blog and begin learning more about Hunter Smith and Chris Wilson, a.k.a. Connersvine.
Now excuse me while I start trying to score a personal interview with Hunter. Really cool that he's the kicker for the Indianapolis Colts, but even cooler that he's a Christian and a singer.