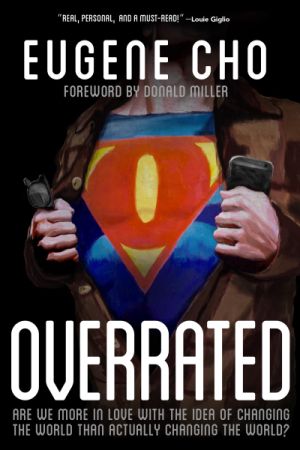 I did something today that I haven't done in quite awhile, perhaps since college… read an entire book in less than 24 hours. The book was an advance copy of a new book titled "Overrated" by Eugene Cho that I was contacted about to read and review. The sub-title is "Are we more in love with the idea of changing the world than actually changing the world?" As the author admits in the very beginning of the book, it's as much a confession of his own challenges as it is a calling-on-the-carpet to others who may find themselves in the same motivational struggles.
There was a hook to this book that brought me into my original interest of reading it. It was the awareness and connection of the author to social media. I wasn't sure how he was going to connect it all, but it didn't matter. The hook was enough for me to crack the book open and start to read. Less than 24-hours later, I'm finished and writing a review about it.
As I continued to read, the message of being more interested in the idea of changing the world is much easier to talk about than actually taking the action that's required. Eugene talks about fighting injustice in the world and how that doesn't have to conflict with being a Christian. How being a Christian is a calling to living justly! It reminded me of an old video I say online by BlimeyCow. Watch it below:
[youtube]https://www.youtube.com/watch?v=4U5sPXSvFXY[/youtube]
Here are some other key thoughts I made note of as I finished reading the book today.
Drive-thrus vs. Waiting Rooms
The power of waiting. We all have good ideas. I've been told in the past that good ideas are a dime a dozen. They're everywhere. The hard part isn't a good idea. The hardest part is taking action on the idea. Sometimes the best thing you can do with a good idea is wait for it to last. I love the statement, "Don't just do something… stand there!" In our society, we're so interested in immediacy and not waiting that we can frequently set ourselves up for failure. Perhaps we don't think things through and make mistakes. Perhaps we should just wait and make sure we're committed to this idea before we just get started on something. Sometimes our good intentions can really do damage if not well thought through, after all must of us have heard the statement about the road to Hell being paved with good intentions. Eugene challenge me to stop looking for the drive-thru in life and instead just take a seat in the waiting room.
#GottaGoDeeper
In the book he shared a few different stories about people wanting to take action and change the world but not even knowing all the facts and details about what they're getting involved in in the first place. People thinking the answer to the water crisis around the world is to dig more wells. That may not be the best answer. They want to take action in Ghana but couldn't even tell you where it is aside from it being in Africa. Someone interested in fixing the injustices in Central America but not being familiar with Archbishop Oscar Romero (which we've written about previously). I was challenge to significantly increase my own knowledge of things that I say are important to me. For me, that's investing more time in increasing my own knowledge in my profession. Increasing my discipline to personal devotions and prayer. Increasing my thirst for knowledge in general by reading more and "watching" less by reducing my screen time.
Eugene Cho's book "Overrated" is available September 1st. I encourage you to check-it-out and read it for yourself. . You can click on the image up there of the cover and pick it up at Amazon in printed or digital form. If you'd like to win a free copy of the book, keep reading to the end of the post.
If you're convinced you should read this book, then maybe you'll be interested in also taking the Overrated 5-Day Challenge. If you haven't been convinced yet, listen to the author talk about the book here.
Eugene Cho Introduces the Book
[youtube]https://www.youtube.com/watch?v=Kqvd12mEEK4[/youtube]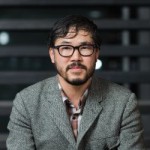 You can watch more videos of Eugene Cho talking about the book on the David C Cook YouTube channel.
Eugene Cho is someone that I feel like I've come to know somehow through reading his book. As I stated in the beginning, he himself admits that his book is confession of his own life and own challenges. But his writing allows you to peer into his life and his world and his story. For this reason I'm now very interested in staying in touch with him through his various social media accounts.
Eugene Cho is the founder of One Day's Wages, pastor at Quest Church, proprietor at Q Cafe and can be found on Twitter @EugeneCho, on Facebook/EugeneCho and Instagram and his blog (www.eugenecho.com)
Win a Copy of "Overrated" FREE!
Okay, you've made it to the bottom! If you'd like, you can win a copy for free by doing one of the following things (or all of them!)
Share the link to this post as we've shared it on our Facebook page
Share our link on Google+


Entries should be completed by September 7th. I'll collect all the entries from all the platforms and use www.random.org to pick a winner. Winner will be contacted after selection and confirmed for delivery of your free book.
Disclosure: (in accordance with the FTC's 16 CFR, Part 255: "Guides Concerning the Use of Endorsements and Testimonials in Advertising"): Many thanks to Propeller Consulting, LLC for providing this prize for the giveaway. Choice of winners and opinions are 100% my own and NOT influenced by monetary compensation. I did receive a sample of the product in exchange for this review and post. Only one entrant per mailing address, per giveaway. If you have won the same prize on another blog, you are not eligible to win it again. Winner is subject to eligibility verification.