If there's one thing that's absolutely breaking my heart over the past few years and making me very angry it's the number of marriages around me that are being destroyed and broken. I originally was going to say the number of marriages that are struggling, but I want everyone to know that most marriages I know struggle and that's normal. The challenge is to stick with it and do what it takes to work through struggles. Struggles can be seen as a sort of exercise for your marriage. There's strain, and resistance and sometimes pain. Maybe even the phrase "blood, sweat and tears" play into it as well. But just like exercise, if you stick with it, those struggles make you stronger. The same goes for your marriage.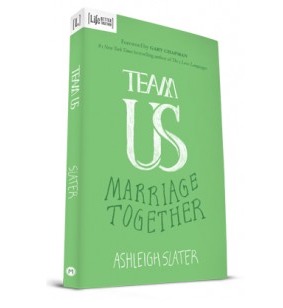 When I got the opportunity to pick up a copy of "Team Us: Marriage Together" by Ashleigh Slater I was excited. On the one hand, that I knew after reading it I would be more equipped and prepared for my own marriage, and on the other that I would hopefully be also better equipped to be a resource and support for those around me that may be struggling in their marriages.
The book is a pretty easy ready and it's not too overwhelming. Ashleigh writes with a very conversational approach and just shares a variety of examples of her own marriage and life to help illustrate and fortify the message within the book. The other thing I like is that she'll have little asides scattered throughout the text from her husband, Ted. These little thought bubbles of sorts are highlighted with "Ted says:" which gives a little bit of insight from the husband's perspective. As I'm reading this as a husband, I really appreciated that additional view and insight into the material throughout the book.
Here's a quick introduction video to the book
[vimeo]https://vimeo.com/102767372[/vimeo]
And here's a video message from the author, Ashleigh Slater
[youtube]https://www.youtube.com/watch?v=tHLlajnf-AU[/youtube]
If you'd like to hear more from Ashleigh, you can also read her blog.
Jumping back into the book though…
The book works through a variety of topics like conflict, life challenges and changes and of course some parenting. Ten quick chapters and your completely through and ready to continue strengthening your own marriage. What I want to encourage you with though is that just reading a book isn't all that it takes. You've got to invest what you've read and learn into your own marriage. The statement I continue to come back to when I speak with friends about marriage in various stages is that there's this amazing thing that happens when you stop focusing on your own needs in a marriage and instead try to focus on the needs of your spouse. Your needs end up getting met as well!
The additional great news is that you can have a copy of this book for free! All you need to do is leave a comment on this post and your name will be entered to win a free copy that we'll get shipped out to you. Also, keep following along with the discussion with other folks wanting to work on and improve their marriage by keeping up on social by using the hashtag #marriagetogether
"Disclosure (in accordance with the FTC's 16 CFR, Part 255: "Guides Concerning the Use of Endorsements and Testimonials in Advertising"): Many thanks to Propeller Consulting, LLC for providing this prize for the giveaway. Choice of winners and opinions are 100% my own and NOT influenced by monetary compensation. I did receive a sample of the product in exchange for this review and post.Only one entrant per mailing address, per giveaway. If you have won the same prize on another blog, you are not eligible to win it again. Winner is subject to eligibility verification."