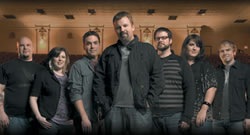 Casting Crowns are appearing at Pepsi Coliseum this evening with The Altar & The Door Tour. The Pepsi Coliseum is on the Indiana State Fairgrounds in Indianapolis, IN.
They'll be appearing with Leeland and John Waller. Tickets are still available and more information can be found by visiting the New Covenant Productions website.
I was almost going to get to be a runner for the groups all-day today, but I wasn't able to confirm with the promoter before he had already lined up some other volunteers. Really bumming today, but it's okay. Instead I still get to go see IRONMAN tonight with friends.
Image: New Covenant Productions