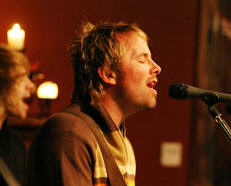 I first heard and sang Chris Tomlin's "How Great Is Our God" at a men's retreat for our church about three years ago. We had recently started attending the church, and things in my life were not near what I had planned for that period. My position had recently been terminated on the account I was working on in the travel industry and almost 8 years of seniority at my company were not worth anything in them assisting me in finding another position at one of our other, numerous accounts. I found myself working at Lowe's Home Improvement for over a year and we were starting fresh at a new church.
I didn't sign-up for the retreat because we didn't have the money and my schedule wouldn't allow me to miss work on that weekend. Through a series of events, my supervisor who was another Christian man, found out about the retreat and told me to head home. He'd cover for me and figure it out. This was the Friday morning of the day we were to leave that evening for the retreat. There was still the question of paying for the retreat. On my way home from Lowe's I received a phone call from a company I do some sporadic work for doing movie trailer checks. They called me and had a number of assignments around town if I could do them all. I said sure and rushed around Indianapolis taking care of all the jobs as quickly as possible so I could get to the church on time to leave. Guess how much I made? That's right! Enough to cover the cost of the retreat and I finished just in time to rush home and pack stuff together and get to the church in time to leave.
As I said before, I first heard this song at the retreat and it obviously resonated with me that weekend. Now everytime I hear the song I'm reminded about just how great our God really is and how he watched over, protected and provided for me and my family in that rough period of my life.
The chorus states:
Chorus:
How great is our God
Sing with me
How great is our God
And all will see
How great, how great is our God
The phrase and music that builds into the last line always hits me right in the spirit of my soul. What a great song. You can read the rest of the lyrics here.
What songs really minister to you and remind of you the tough and great times in your life?
Chris has a great website setup for himself where you can really learn more about him and all the normal things like photos, albums and tour dates. A music player on the site let's you hear clips from his current songs and more.