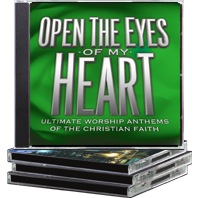 I was getting my haircut today during lunch at my favorite location and noticed a commercial for Christian worship music being played on ESPN.
It's for a CD set from TimeLife featuring some of the top worship songs being played today.
These are the ultimate songs of faith, songs of the ultimate love — today's greatest worship anthems. You'll hear Michael W. Smith, MercyMe, Chris Rice, Darlene Zschech, and many more. 22 songs of power and passion on 2 CDs! Order now and save with this special offer!
I thought that was some pretty cool exposure for Christian music and started to think more about the commercial.
Why did they pick ESPN? Are guys a big target audience for worship music, especially for CD sets made available through TimeLife books?
Technorati Tags: worship music, MercyMe, Michael W Smith, Chris Rice, Darlene Zschech, ESPN, sports, TimeLife, CD sets