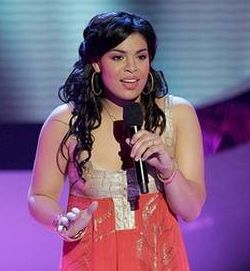 If you're an American Idol fan then you probably already know that Jordin Sparks beat out Blake Lewis in last night's 2-hour finale to this season of American Idol. If you're really an American Idol fan, then you should be reading Idol Stalker in addition to Christian Music Fan.
I had written about Jordin a long time ago and how she had actually toured with Michael W. Smith on his Christmastime tour for the past two years. Michael has also been covering Jordin's progress on American Idol from his own blog.
I feel that Jordin has done a great job of maintaining her charm and innocence this season on the show. I remember reading an article about her stating that she felt one of her main purposes was to just be a good friend to the other contestants and show Christ's love. I think she succeeded on that effort as well as winning the contest itself. I hope she maintains her great spirit and doesn't let all this media circus and promotion that will happen change her.
I don't think I expect her to focus her career in the contemporary Christian arena. I don't think that's a problem though, it would be nice to have more artists and musicians that are popular and get on TV for the right reasons and not because of their latest incident with law inforcement or addictions. Best of luck to you Jordin.