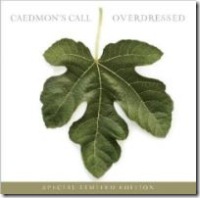 Although I'd listened to Caedmon's Call before, I only became more familiar with them as I was introduced to Derek Webb as a solo artist.
I now find out he'll be rejoining Caedmon's Call on their next album and tour.
AFTER FIVE YEARS, THE RUMOR IS TRUE; I AM JOINING WITH CAEDMON'S CALL ON THEIR NEWEST RECORD AND UPCOMING SPRING '08 TOUR!

OVERDRESSED IS RELEASING AUGUST 28 IN STORES EVERYWHERE.

WE ARE EXCITED TO ANNOUNCE A SPECIAL EDITION PRE-SALE FOR THIS NEW PROJECT, EXCLUSIVELY AVAILABLE AT CAEDMONSCALL.COM.

ORDER TODAY AND GET TWO CD'S FOR $12! AND YOU'LL ALSO GET TWO EXCLUSIVE BONUS TRACKS ONLY AVAILABLE ON THE PRE-SALE VERSION OF OVERDRESSED.
Did you catch the title and the image reference? I sure hope Derek is involved in the writing of the tracks for the album. If there's anything I love about Derek Webb, it's his lyrical work, followed closely by everything else!