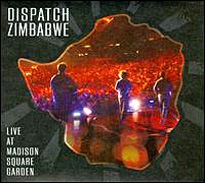 An album I've been listening to for awhile now has been the Dispatch Zimbabwe "Live at Madison Square Garden". Although probably not found in your local Christian Music store, it's a benefit album to help the people of Zimbabwe, so I figured I'd review it here and also figure out a way to give a copy of the album away to one of our readers.
If you're like me, you may not have heard of Dispatch before so here's a little bit about them:
Known as the band that redefined independent music history, the members of Dispatch released album after album on their own label, rising up without the assistance of a major record label and selling over 600,000 albums. Dispatch became pioneers, making their reputation largely by touring, word-of-mouth and file sharing. The three nights at MSG, marked the band's first appearances together since their 2004 farewell show, which drew more than 110,000 fans from 25 countries, making it the largest independent music event in history. Coming together for a cause that's greater than anything that drew them apart, Dispatch: Zimbabwe not only raised funds to alleviate suffering in Zimbabwe, but also marked the first time an independent band sold out Madison Square Garden.
They've got a great world-music sound if that's your thing. I've been becoming a fan or more culturally diverse music for a little while now as of late and this has been a great album to add my collection.
Catch the Dispatch Zimbabwe "Live at Madison Square Garden" Trailer
Here's what some other people you may have heard of have to say about the group:
Applauded by Rolling Stone Magazine, Spin, MTV, The New York Times, Esquire, The Boston Globe and the Associated Press, among many others, Dispatch donated 100% of the net profits from the "Dispatch" Zimbabwe" concerts to their recently founded Dispatch Foundation, earmarking the funds towards fighting disease, famine, and social injustice in the poverty stricken Zimbabwe. A portion of the net proceeds from "Dispatch: Zimbabwe – Live at Madison Square Garden," will also be donated to the Dispatch Foundation and its efforts in Zimbabwe. For more information, check out dispatchmusic.com and dispatchfoundation.org.
This album has been out for awhile now, but if you haven't heard it now it's new to you. Take the opportunity to learn more about the group and their efforts.
Win A Copy of Dispatch Zimbabwe "Live at Madison Square Garden"
Here's how you can get a copy of this dual audio CD and DVD of the sold-out concert. Leave a comment or write a post of your own about the group or about news that's occurring in Zimbabwe. I'll then pick one of the comments or link backs randomly to the person to get to win a copy of the CD and DVD.
Let me know if you have any questions.