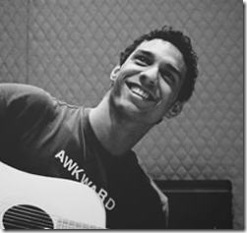 I was able to get Nate to agree to answer a few questions for us via e-mail so we could get to know him a little bit better.
What is your favorite word? Gorgeous

What is your least favorite word? No

What turns you on creatively, spiritually or emotionally? Love… the love of Christ, the love of a friend or being hurt!

What turns you off? smells that stink

What sound or noise do you love? The ocean

What sound or noise do you hate? Train horn as it goes by

What profession other than your own would you like to attempt? Youth Leader

What profession would you not like to do? ditch digger… lol

What would you like to hear God say when you arrive at the Pearly Gates? Well Done My good and faithful servant! :)

What was your first job? salesman at Just For Feet a Shoe and athletic clothing store!

Do you believe being labeled as a "Christian artist" restricts your ability to spread the gospel through your music? I think it closes a lot of doors that I would love opened but with patience and love I believe many of these doors can and will reopen.

If we could see your current music playlist right now, who would we find? Acceptance, Anberlin, Brandon Heath, Marc Broussard, Mat Wetz, Damien Rice, LeeLand, Nevertheless, Skillet, Toby Mac, Underoath… on and on and on!

What was the greatest challenge you've overcome in order to pursue music? So many people always told me I could never do it. I was told I didn't have the voice, the look, or the strength and dedication! But when God has a plan for your life you fight for it!

What was the greatest challenge you've had in your life personally? Overcoming my insecurities and feelings of abandonment. Being adopted and always being different, not only as a black kid in a white school but not knowing who I was and where I came from.

What's your favorite cartoon character? I have two actually… i loved Tom and Jerry

What's your favorite TV Show? Man vs Wild

What's your favorite movie? Elf

Were you chosen for any Senior Superlatives in your high school yearbook? Most likely to Win American Idol… LOL

Where did you attend college? Northern Arizona University

Where did you attend high school? Phoenix Christian High School

What city and state do you consider your "hometown"? Phoenix, AZ

What's your favorite website? www.woot.com
Anyone that likes "Man vs. Wild" is good-to-go in my book. A number of other things we have in common. However, the fact that your senior superlative was related to American Idol makes me feel WAY! too old, and I'm NOT that old!
I'm looking forward to hearing and learning more about you as time progresses. Hopefully I'll get to meet you in person sometime soon.