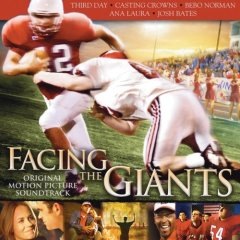 I don't know if you caught the movie "Facing the Giants" when it was in theaters awhile back. It's an absolutely great, inspiring and uplifting movie to watch with your family. Especially if you have boys who enjoy football like my son.
Tonight we were watching it again. As I was working on some things I was hearing the music more this time since I wasn't paying as much attention to the movie itself. I was noticing that the soundtrack is really a great collection of Christian music from popular artists. I knew this when the movie first came out, but I don't think I thought about it as much as I realized tonight listening to it again.
Here are the non-instrumental songs on the album:
Come Together: Third Day
Voice Of Truth: Casting Crowns
I'm Finding You: Bebo Norman
Completely: Ana Laura
Come On Back To Me: Third Day
Never Give Up: Josh Bates
With You: Mark Willard
You can grab the soundtrack at Amazon.com where you can listen to samples of each song, or your favorite online Christian music retailer or local Christian bookstore.
Did you see the movie? What do you think of the soundtrack?