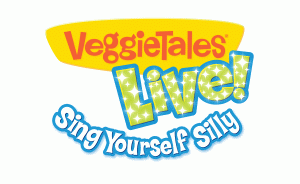 One of the all-time best Christian value promoting shows ever can now be seen LIVE and that LIVE performance can now be enjoyed on DVD at home so you can relive all the great times you had.
VeggieTales® Live! Sing Yourself Silly is now available on DVD today from Big Idea Entertainment!  Follow Bob, Larry and the whole crew as they take to the stage the silliest Silly Song Countdown ever!  VeggieTales® Live! Sing Yourself Silly captures all the fun of the live tour with energetic dancers, loads of bubbles, confetti, classic and popular VeggieTales silly songs and much more!  Join the VeggieTales crew as they sing through 18 of the topVeggieTales silly songs and learn the importance of sharing while they take silliness to a whole new level.
[youtube]http://www.youtube.com/watch?v=3TSoEYkMnAQ[/youtube]
You can buy the VeggieTales® Live! Sing Yourself Silly DVD if you want, or you can just win one by leaving a comment here on this post and let me know what your favorite VeggieTales Silly Song is to sing.
You can now also stay in touch and up-to-date with the latest information from VeggieTales on their Facebook page.