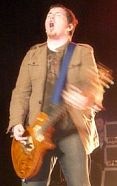 A super happy birthday wish to Mark Lee of Third Day. I'm not sure how old he is today, but as you can tell from the photo he still knows how to rock out at a concert.
Best wishes to you today Mark. I hope you have a great one and you're able to enjoy it with your family and all of your fans!
Here's to many more years to come of entertaining and blessing us through your work with Third Day.
Photo Credit: Third Day Pix