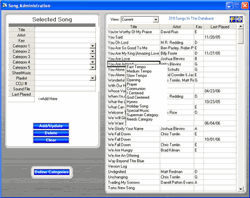 Awhile back I received an e-mail from the developer of SetPicker about their application that helps worship leaders design and choose their worship set for services.
SetPicker Worship Administration Software makes time available through speeding up the leaders administrative tasks.  You write set lists faster,  schedule your worship services quicker, contact all your team members with one click, and most of all remain organized!
I have not personally tried this out, but thought I'd share it with the group to see if anyone else out there has heard of it or maybe even used it themselves.
What software do you use? Do you use anything?