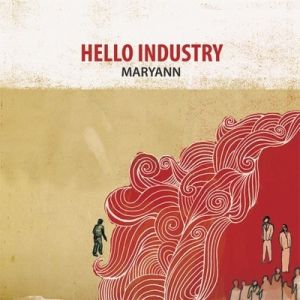 I popped in Hello Industry's MaryAnn CD, and for a few glorious seconds I thought I was listening to 1980's Petra.
Sure, I'm probably the only one who heard it, but this album is chock full of subjective comparisons, though usually to other pop alternative bands: "Kinda reminds me of early U2." "I think I heard a little Daft Punk in there." "Sounds like Coldplay."
And that's OK. Hello Industry has all kinds of influences, but that doesn't mean Nathan Peterson and gang aren't their own band. They are, and they're quite good. Not everybody has to be a pioneer.
Or are they? Thanks to websites and social media, we can learn far more about music groups today than we did in my increasingly distant youth, when all we had to go on were the thank-yous in album liner notes and an occasional newspaper or magazine feature. Admittedly, I'm still at a loss as to what "Hello Industry" means. But I've stopped asking where these newfangled bands get their names.
What I do know is that Hello Industry is as real as it gets, in a music marketplace in which "authentic" and "honest" have become just another carefully manufactured brand. They have a purpose. You'd think every Christian band would, but a lot appear more interested in crossover success, scoring a "The Tonight Show" performance, or pontificating about their craft rather than Christ.
Hello Industry says its mission is "to put meaningful music in the hands of struggling people." (The world's full of them, in case you haven't noticed.) To that end, the group has adopted a pay-what-you-want model: guilt-free downloads if you don't have money, and an invitation to support them if you do have money.
Of course, it ain't cheap to record music and distribute it. Hello Industry believes the future of the, er, industry isn't labels but a partnership between artist and fan. They're taking a risk, but the band's Facebook page indicates they're raising enough through Kickstarter to mix several songs for a new album, Matter, this year.
I'm looking forward to it, after playing the heck out of MaryAnn. This album was actually released in 2008, but hey, it's new to me and probably to you, too. The opening track, "Supposition," is a smart choice to lead the album, grabbing the listener with a powerful fusion of electric guitar and keyboard that could easily overtake Peterson's voice but doesn't. At first I wanted him to go all Daughtry, but one detects a sensitive soul behind these lyrics ("I wasn't ever safe here / Not even from myself / When the cold night arrives / Would you even hear me cry"). Song after song, I came to realize how much Peterson's gentle vocals fit the material, and that where he lacks intensity, the arrangements more than make up for it.
"Grass" is another introspective track that boasts incredible guitar ("Every year the picture gets younger / And I'm that much closer to being like grass / That fades like a flower in winter, breathes its last breath and never comes back"). The rest of the band – Brett Ellen on electric guitar, James Ross on bass and Heather Peterson on keyboard – excels here and throughout.
The title track and "Ugly" give voice to the pressures, loneliness and anxiety felt by teens and young adults. The latter is for anyone who's ever felt excluded ("You're no good / You're fat / Your hair doesn't look the way it should / They're carving out your life for you / Tell you how you are before you know / Carving out your life for you / Carving out your death for you").
A few lyrics do fall flat:"In spite of all their bad reviews / You're still my favorite show / I'll never miss an episode" (from "MaryAnn," my least favorite track). Others are enigmatic. But Hello Industry is writing with troubled teens in mind, and the band's site hints at Peterson's history with depression, cutting and suicide. Whatever one thinks of them, these songs come from a deeply personal place.
The two worship-tinged tracks "Stop the Rain" and "Here Comes the Sun" are a nice slowdown in the middle of the album, flecked with raw questions ("Who can stop the pouring rain / Who can take the knife out of my hand before I hurt myself, before it cuts again") and answers that were there all along ("Who can say my name and call me home / Who'd accept me after all I've done / Here comes the sun right on time").
Two other songs are worth a mention, too: "You," which might have been one of David's psalms had he only possessed an electric guitar, and "Make Believe," a meditation on what's truly important ("I thought about some reasons I should live / It's all about a man I thought was dead / It's all about a price out on my head / It's all about a curtain torn to shreds").
Enough. I've offered plenty of reasons to give Hello Industry a try. If you end up like me – impatient to hear their long-gestating follow-up – download the band's Hymn Songs (2010) to tide you over.
Matt's bio should be here. Somebody should ask him to write one for us!