If you've been alive over the last decade or so during the holiday season you're probably familiar with the seeming effort to remove "Christ" from Christmas and to replace it with "Happy Holidays". You may also have experience with Christians forsaking Christmas as well because of the historical associations of the holiday with pagan rituals. Who's on the right side of the argument here? Kirk Cameron, has a movie coming out in theaters this Friday called "Kirk Cameron's Saving Christmas" and it looks like it's both a fun and perhaps somewhat irreverent look at the behavior of people in and out of the church as they participate in this debate.
I've had a little bit of multiple contacts with Kirk's viewpoint on things over the last couple of weeks and one of them is shared below in the embedded video.
[youtube]https://www.youtube.com/watch?v=WUR_NxgWIpM[/youtube]
What I loved about that video was a comment that he made at the end. The comment about what God has made is good and we need to reclaim what was created as being good and has been perverted and twisted against its original intent. He says, "they've always stolen and perverted… convince those things belong to them… my Bible says the Earth is the Lord's and everything it contains is good, sacred and belongs to Him."
There's much more to this film than that though and I believe many people will have opportunities to relate to the ideas and perspectives that Kirk shares in the film. Here's a little bit from the official website for the film.
This Christmas, have your family join with Kirk Cameron's family and dive headfirst into all the joy, dancing, celebration, feasting, imagination, and traditions that glorify the true "reason for the season." KIRK CAMERON'S SAVING CHRISTMAS is an engaging story that provides a biblical basis for our time-honored traditions and celebrations, and the inspiration to stand strongly against a culture that wants to trivialize and eliminate the faith elements of this holy season. So take in the splendor; take in the majesty; take in the story. Take it all in… and let's put Christ back in Christmas! KIRK CAMERON'S SAVING CHRISTMAS is in theaters for a limited engagement beginning November 14 for two weeks only!
You can watch the trailer for yourself here as well:
[youtube]https://www.youtube.com/watch?v=AOSiZIgZ2JQ[/youtube]
I so appreciate the work that Kirk has done to spread the beliefs that we share and I'm torn that there's so much resistance to his perspectives on things. I believe it can really be attributed to that there is resistance to faith and belief and the culture around us doesn't want to be responsible for their actions in the ways that matter. I encourage you to check-out more of his stuff and I'm very eager to hear from everyone on your opinions about the work Kirk is doing. Not just for this film, but many of the other projects he's been involved in over the last few years.
Go see the movie yourself with your family this weekend. It opens in select cities tomorrow, Friday, November 14th for a limited engagement only of two weeks. To find out where it's playing near you, just visit the theater page on the Saving Christmas website.
Stay in touch with Kirk, this project and others by following him on his social channels below.
Oh, and don't forget. You've got the opportunity win some cool stuff by sharing your thoughts about Christmas and the work Kirk is doing on our blog. A random winner will be selected from those that leave comments on this blog post, share the post on our social channels and comment there as well. Here's what you can win: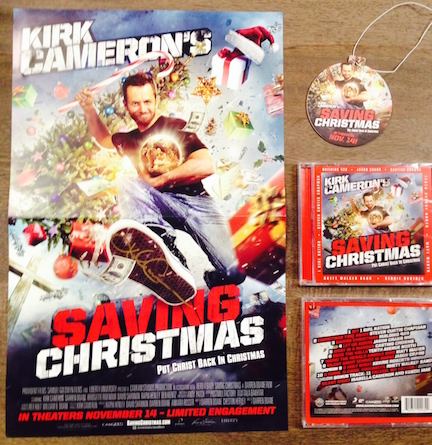 A "Saving Christmas" poster signed by Kirk Cameron
A "Saving Christmas" air freshener that smells like Christmas trees
The "Saving Christmas" soundtrack with the following tracks:

Joy – 1 Girl Nation
Christmas Time Again – Steven Curtis Chapman
Saving Christmas – Building 429
Let Us Adore – Jason Crabb
Away In A Manger – Casting Crowns
Deck the Halls – Tenth Avenue North
Hark! The Herald Angels Sing – Matt Maher
Silent Night (Christ Is Born) – Jason Crabb
O Holy Night – Kerrie Roberts
O Come, O Come, Emmanuel – Rhett Walker Band
Bonus Track: Father, My Father / Silent Night – Isabella Cameron and Kenzie Mae
So, let us know what you think and share it with your friends and family!