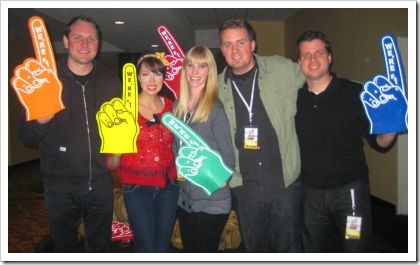 When "This Is the Stuff" first started playing on the radio in the car, my little girl said "Hey that's Mommy's theme song!" Ever since that day every time we hear that song we love it. All of Francesca's Battistelli's songs are great music that really connect with people and where they're at in their everyday lives.
Looks like my family isn't the only one that's really enjoying "This Is The Stuff" and the rest of her songs on her sophomore release "Hundred More Years".
Fervent Records artist and reigning Dove Awards Female Vocalist of the Year Francesca Battistelli received a surprise greeting from the staff at Word Entertainment after her performance at Sunday's sold out Winter Jam concert at Bridgestone Arena in Nashville, Tenn. Her label family along with her renowned producer, Ian Eskelin showed up at Bridgestone Arena adorned with foam No. 1 fingers in celebration of her sophomore album Hundred More Years debuting at the top of the ChristianSoundScan Album Chart. Battistelli scored a different No. 1 this week at AC Indicator with her current single "This is the Stuff," making it her first No. 1 single off her new album.
Battistelli recently received another big achievement with four nominations at the upcoming 42nd annual Dove Awards including a nomination in the prestigious Artist Of The Year category, making her the most nominated Female Artist this year.
In Photo (L to R): Ian Eskelin, Producer, Francesca Battistelli, Kellyn Bailey, Word Entertainment Marketing Director, Joshua Bailey, Word Entertainment Senior VP of A&R and Rod Riley, Word Entertainment President & CEO
PHOTO CREDIT: Warner Music Nashville