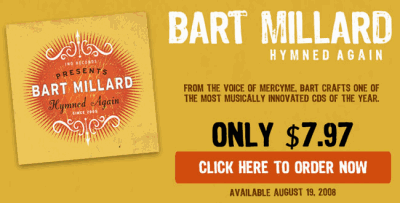 Bart Millard of MercyMe has been working on a new album and you can now order it for when it becomes available on August, 19th, 2008.
The title of the album is "Hymned Again" and as you can imagine is an additional dose of Bart singing some of the favorite hymns of the church.
Bart Millard, the voice of MercyMe, crafts one of the most musically innovated CDs of the year with Hymned Again.

Following in the footsteps of his successful debut release, Hymned No. 1., Bart delivers bold interpretations of familiar hymns with a fun, up-tempo and spirited musical journey showcasing his signature vocals.
Here's the track listing:
Leaning On The Everlasting Arms
Down At The Cross
What A Friend We Have In Jesus
I Saw The Light
I Stand Amazed
Victory In Jesus
Stand Up, Stand Up For Jesus
Brethren We Have Met To Worship
Grace That Is Greater
What A Day That Will Be
Jesus Cares For Me
How many of your favorites are on there? Which hymns are your favorites that you'd love to hear Bart sing on his next album?