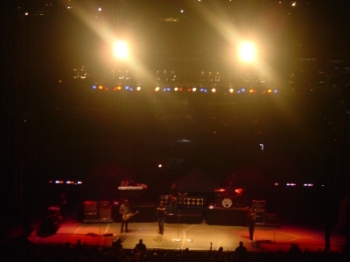 The big Christian music concert was at the Indiana State Fair last night and I was there, along with five other friends (maybe more but I didn't see them or know they were there). We had a huge let down when we arrived:
There's a line that came out of nowhere at 6:45pm to get into the grandstands. It was after 7:00pm before we got into the venue.
With the rain Indy experienced earlier in the day, they decided not to setup seats on the track area immediately in front of the stage, and that's where are tickets were. They gave us the option of STANDING IN muddy, stinky sand or we could exchange our tickets for grandstand seats.
My wife and friends weren't interested in standing in the sand for three hours, so we all decided to exchange our tickets. I should have kept mine, I could have grabbed some much better photos (flickr set here).
After getting into the concert late, we missed the majority of Jars of Clay's set, but what they did perform was great. The music mixed seemed a little off though, it was hard to hear the lyrics, which is very important to me at a concert. One thing Dan Haseltine did that was a little irritating was that he kept holding the mic out towards the audience for them to sing. You've seen it happen, you know what I'm talking about. That's cool, but he did it WAY too much. I didn't come to the concert to hear the audience. Jars of Clay rocked out with Flood, Love Song for a Saviour, and their remixes of Nothing But the Blood and It Is Well from Redemption Songs. I was pumped to hear "It Is Well", but they did it completely different than the Beatles-esque version on the album. As stated by David Lindquist from the IndyStar (who wrote a great article on the event), it was very much "That Thing You Do" beat to it. Great! My favorite song of the Jars of Clay set was the one they teased us from their new album, called "All My Tears". The new album is called "Good Monsters" and will release on September 5th, 2006.
Next up was Third Day. I went to see them last year (or was it two years ago) for their Livewire Tour. Mac Powell and Third Day totally rocks out a concert, and never sacrifices sharing the Word and the Gospel with the audience. Mac Powell's voice was right on target as usual. I honestly think Third Day was my favorite group of the three. Read about their experience at the fair on their blog.
Michael W. Smith brought much more of the spirit of worship to the concert. It was a nice change of pace actually, but somewhat of a letdown at the same time. I was happy that he didn't sing "Friends" though. That may have incited a riot right there in the stands. Michael shared a couple of songs from his new album, "Stand" coming out in September. He introduced one song by saying 1% of church should happen with the four walls, 99% should happen outside the church the other 6 days a week. Here's a similar quote from his website:
Being involved so much in my church has given me insight into what the church is really about. We need to think of what happens on Sunday as only 10% of what it means to be the church. The rest of the week should be 90% of what it means to be the church, the real body of Christ.