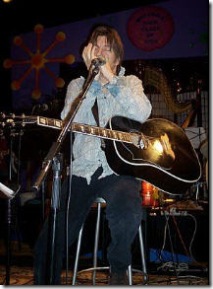 A independent Christian music artist named Steve Counsel e-mailed me awhile back and asked me to check out some of his stuff. I've had some of his YouTube videos playing in the background as I work on some other things.
The first video on his website is from a concert he did and it's full of energy and praise. You can check it out below:
Here's a bit of what Mike Rimmer of Cross Rhythms Magazine had to say about him:
It's a bit of a feat these days to create a studio worship album packed with vibe and free from musical cliché but here's one! Steve Counsel may look like a refuge from The Faces in 1973 but the Londoner knows how to create edgy worship that is the perfect antidote to the smooth banal stuff emerging from most quarters. Borrowing from his bluesy roots (Counsel blows a mean harp – check out "Roll Away The Stone"), vocally he sounds like a young Van Morrison spitting out the words here with a raspy soulful passion.
I couldn't have said it better myself. He absolutely has some sounds of the Rolling Stones and rocks out on some of his songs. Really good stuff!
Keep your eye on Steve, especially if you're across the pond. You can check-out more of his work on his website as well as purchasing his CD.