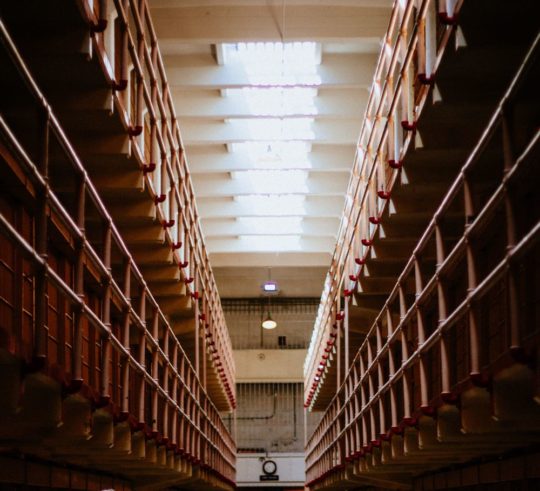 Last weekend was incredible. We had record number of people through our doors on Easter Day (422 to be exact – not too shabby for our little neck of the woods) as our celebration came at the end of a long Lenten season. Good Friday was one for our memories. But before our services, the three other pastors I serve with, along with our jail ministry leaders, experienced a remarkable grace. They served communion in the county jail. As I listened to them recount the experience this morning, I wanted to share my thoughts with you.
When we share the elements of communion within our church walls, we get everyone's best face. Sometimes there are smiles, other times we can see a sense of gratitude; the moment is not lost on us. But usually it's done in the safety of a worship service. On Good Friday, in a solemn act, these prisoners were offered this dangerous grace – a chance to receive His mercy.
I use the word dangerous because not all of them took part. Some opted to stay asleep, eyes opening slightly before they pulled the covers back over their heads. I get it. It's dangerous, this way of the cross. I might want to stay asleep too. It takes effort to get out of bed. The same can be said of our lives, too. It takes effort to live a faithful life, devoted to God and to others.
It's true isn't it?
The next time you hear someone say (or you are tempted to say), "I don't want to take communion too much…it might lose it's meaning." Think about those prisoners. Many were literally dying to have someone offer them juice and a cracker. The power of the sacrifice that took place on the cross and in an empty grave cannot lose it's power. Nothing you do or don't do can change that. However, you can certainly lose the significance. You can pull the covers over your head and just refuse to receive.
This coming Sunday, most churches won't have record numbers again. In many circles, the Sunday after Easter is called "Low Sunday". It's frustrating because it means that there are some that are choosing a different rhythm.
Listen, we were all prisoners at some point. All of us are in need of grace and I pray you'll choose to receive it. I pray you find a place of worship this Sunday. Choose to follow up after Easter. The story gets even better.
Matt
"My old self has been crucified with Christ. It is no longer I who live, but Christ lives in me." – Galatians 2:20
Matt Hastings lives with his wife Keri and their five children in Tullahoma, Tennessee. He is the pastor of the Estill Springs Church of the Nazarene. [Editor's Note: Matt has graciously allowed us to republish his weekly email devotionals on our site for our readers.]