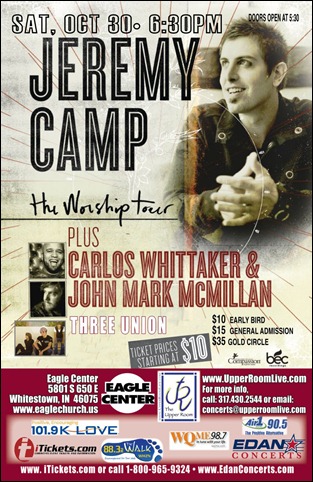 This weekend I'm finally going to get to do something I haven't been able to do for quite awhile. I'm going to a concert!
This Saturday night, October 30th, Jeremy Camp will bring The Conversations from the Red Chair and Worship Tour to the Eagle Center (Home of Eagle Church) in Whitestown, IN (just north of Indianapolis off of I-65). Jeremy won't be coming alone though, also performing will be Carlos Whittaker, John Mark McMillan and Three Union.
I'm excited because Jeremy Camp is one of my favorite singers and songwriters and I've never seen him in concert. I'm also really excited to see Carlos Whittaker (or as I know him more accurately as @loswhit on Twitter). I'm not familiar with John Mark MicMillan and Three Union, so getting some exposure to some new music is always a good thing too.
I'm hoping I'll be able to meet all the acts and get some good photos to share with everyone after the concert.
1:23 Conversations From the Red Chair w/Jeremy Camp, John Mark McMillan & Carlos Whittaker from Integrity Live on Vimeo.
I'm also excited that this will be the first of hopefully quite a few concerts and promotions I'll be helping with in the future with Chris Linhart and The Upper Room. Chris has an amazing heart for ministry to use Christian music to reach kids and anyone else that may never step foot in a church or attend some other Christian event.
For more information and to purchase tickets visit Edan Concerts and iTickets.com