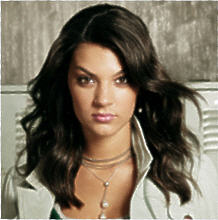 You can currently download the song "What I Hear" from HearItFirst's website if you're a member of their e-mail newsletter.
"What I Hear" is from Jessie Daniels self-titled debut album.
Jessie's got a nicely designed website for herself. You can see some other photos of her and listen to a few of her songs and see some video clips as well as read her online journal.
The photo there is from her website. Is it just me, or does she look like Carrie Underwood of American Idol fame as a brunette?