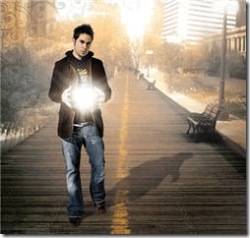 "Nightlights and Melted Ice" by Jordan Critz is a journey into a musical world of great instrumental arrangement layered through powerful lyrics sung from a voice with almost hypnotic tone.
It's weird, when I first popped this CD into my car stereo to begin listening to, I really didn't like it too much. I'm not sure what kind of mood I was in at the time, but after listening to it more, specifically this evening I've completely changed my perspective.
Tonight I've had it playing in the background as I've been working on some other projects and it's been immersing my thoughts with a subtle soundtrack of powerful yet soothing vocals. The lyrics are familiar sounding phrases, but are woven together to make a song have a whole new life from what I originally heard in my car.
Read this stanza of lyrics:
Take all of me, all I am is yours to find
Here is my soul it is yours to unwind

Though we're never far apart
Still we're strangers to our hearts
Before our lifetime's end
I'll fight until we meet again
The song itself "Until We Meet Again", isn't much more than that, but it inspires you to think about your own place in the world and your position in your relationship with Christ. At least that's what it did for me while I was listening to it.
The musical talent of Jordan shouldn't be a surprise as he was classically trained at piano and guitar as a young boy. That training and education obviously prepared the way for him to put together the beautiful arrangements available on this album.
One of my biggest challenges is trying to think about who an artist sounds like or reminds me. Some of the things I've read state that he incorporates the sound of Bono, Bruce Hornsby and Counting Crows to the table. I'm not sure if I really hear that through the general talent and skill that Jordan brings to the music that's all his own.
You can hear his music on his website (www.jordancritz.com) or his MySpace page (www.myspace.com/jordancritz).