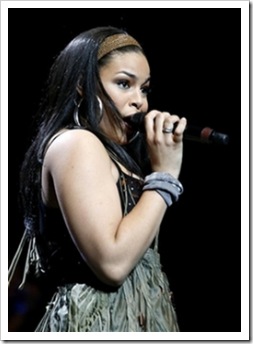 The most recent, and youngest, American Idol winner is releasing the first track from her upcoming album.
The single will be available today on AOL's PopEater music blog. The track title is "Tattoo" and talks about the ending a relationship.
Sparks, the youngest winner in the Fox show's six seasons, said her debut album, set for Nov. 20, will be a musical mixture of styles including pop-rock — in the edgy key of Clarkson, one of her role models — and the dramatic ballads that made her stand out on the "Idol" stage. She hopes to add some country, too.

This girl's got goals — among them, to "maybe win a couple Grammys … Maybe be happy with somebody. Maybe act in a movie. Maybe do Broadway."
Another congratulations to Jordin on her win and upcoming album. I can't wait till her album and Blake's are available for purchase.
My brother/sister-in-law snagged some free tickets to the American Idols Live Tour when it was here with the Indiana State Fair last week. They said it was really good. And even that Sanjaya wasn't that bad. I'll have to take their word for it though.
I'm wondering if Jordin's album will have much Christian undertones to it or not. From the article, it appears she's still remaining quite humble in the entire process.
Photo Credit: Associated Press on Yahoo News!
Article: Jordin Sparks debuts new single