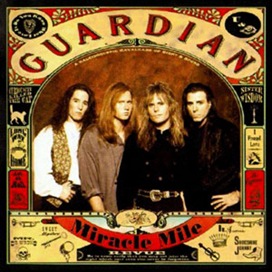 Does the name David Bach ring a bell with you? What about the song "Sweet Mystery". Ahhhh, Guardian! I was first introduced to the group by my friend Dan in college. He had the "Miracle Mile" album and my favorite tracks from the song were:
"I Found Love"
"Sweet Mystery"
"The Captain"
"Do You Know What Love Is"
I hadn't thought about them much until William let me know their former lead singer and bassist, David Bach has his own blog and some interesting insight into the Christian music industry and other topics.
Here's a bit from one of his latest posts about the pending demise of the CCM industry.
I knew it was really hitting home when a former EMI associate of mine here in Nashville wrote me yesterday and asked for a job recommendation.

Am I gloating?

No. Sometimes it sucks to be right.

What's worse is that it appears that digital distribution bandwagon that I had jumped on is not delivering enough to fill the gaps.

In fact, just after my recent post about how cool I thought the Snocap digital music stores were—I found out that nobody I know has actually been paid by Snocap.

I've heard it said that when people find something to do that they love—they'll do it for free.

As far as the music business goes…we're about to find out.
I've subscribed to his feed so don't be surprised if I start sharing more from him along the way.
I continued doing some searching on Guardian and came across this page that talked about their history and it hit close to home for me as well.
Throughout the project a sense of passion and joy permeate each groove. The songs were definitely influenced by the relaxed atmosphere in which they were created. Since the Elefante's new super studio, The Sound Kitchen, wasn't completed, Guardian recorded Swing, Swang, Swung in John Elefante's small garage studio, affectionately referred to as the Snackbar. "It was a very loose, relaxed thing," Bach explains. "We cut (the record) in John's garage, which gave it a more personal nature. It doesn't really have a sterile studio feel. It was a very loose, vibey type situation."
When I live in Franklin, TN my roommate worked at The Sound Kitchen, and I'm fairly familiar with the studio and the work that went on inside those walls of their studios. Very cool!
Roll & Rock:: Godsmack: Third Down
Image Source: Wikipedia