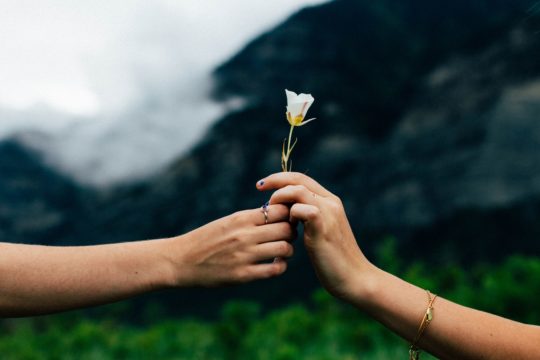 When I officiate a wedding, I tend to use some of the same language. Last year, there were 14 weddings. I almost have that section memorized! I use some of the same language because it's important. I also believe it isn't just for married couples. See if this is useful to you…
Love isn't romance or harmony or peace. Those are byproducts of love. Love is faithfulness to God, then each other. You can't give what you don't have. But that is the goal of love…giving. Giving itself away.
When I was 20, I was selfish. I didn't realize how selfish I was until we had kids. Then we had 3 pretty quickly. Three kids, under 4 years old, and we hadn't been married more than 5 years. They required love, care, and constant attention. It was a challenge. As we've aged (well, I've aged, Keri seems to have found a time machine), I realize the issue with most of the problems in our marriages, our relationships, and honestly, the world is, we are more selfish than we realize.
Keri and I have friends that contact us weekly about adopting. It's a daunting task, but completely worth it. Most people we know talk about doing it but never actually do…it's hard.
I talk with addicts everyday who are still trying to keep life between the lines. I am grateful for a God (and a really good church) that does not see our "stuff" as a deal breaker. Sobriety is hard.
I watch the news and follow current events on social media. Politicians, celebrities, and anyone else we've deemed "famous", all suffer from the same affliction; the lie of scarcity. We think we need more. More of (fill in the blank). Where do you think that desire comes from? It comes from selfishness.
But I believe that love gives itself away. I think love, true love, can rid you of the selfish parts of yourself. And what remains is the real you, the you that God created.
Give some of your time, some of your money, some of your stuff and some of your heart away. When you do this, you'll find out who you really are.
Giving love away with you,
Matt
Love does no harm to a neighbor. Therefore love is the fulfillment of the law. Romans 13:10
Matt Hastings lives with his wife Keri and their five children in Tullahoma, Tennessee. He is the pastor of the Estill Springs Church of the Nazarene. [Editor's Note: Matt has graciously allowed us to republish his weekly email devotionals on our site for our readers.]