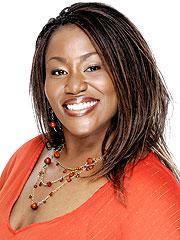 American Idol seems to be somewhat of the topic du jour recently on a variety of sites, even this one with one of my latest posts. While we're still on the topic, one of my favorite contestants from last season will be releasing her debut album and a book into stores this May.
From the people that have been working on her album and their previous involvement on other albums, I've got some high expectations of her debut release.
Produced by Shaun Shankel (Destiny's Child, Kimberly Locke), Doubledutch-Robert Marvin and Josiah Bell (tobyMac, Mat Kearney), as well as others to be announced, Mandisa's national debut is scheduled for release this May and will feature songs that reflect her personal journey, struggles, success as well as her contagious joy and passionate heart.
Let's see, I always liked Kimberly Locke, and I love tobyMac and Mat Kearney as well. Perhaps more interesting though is the book that Mandisa is releasing along with the album in May.
In her upcoming book, IdolEyes (Tyndale House), on shelves June 1, Mandisa gives an in-depth view into her journey on the No.1 reality show in America. Co-authored with Angela Hunt, Mandisa shares how both difficult and triumphant events put her faith to the test. Speaking openly and honestly about her life-long battle with food addiction, Mandisa shows how it has affected her personally, and how the now famous, derogatory remarks made by judge Simon Cowell on live television have provided her with the opportunity to become a positive role model for millions of women who are struggling to live up to popular culture's image of the "ideal woman." Mandisa offers women the hope that they can be beautiful at any size, and that healthy self-esteem and personal beauty come only when they accept themselves as a unique and much-loved woman of God's creation.
Read more about Mandisa and what she's been up to since her time as a finalist on American Idol Season 5 on the CCM Magazine website in their article, AMERICAN IDOL alum MANDISA to release debut album, book