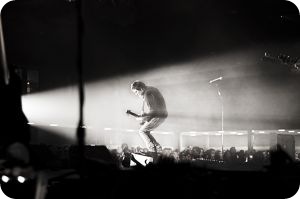 Los over at Ragamuffin Soul grabbed this amazing photo of Mark Lee from Third Day rocking it out in Gatlinburg recently. Be sure and follow the link above for the full-blown version of the original photo.
If you're not a reader of Ragamuffin Soul, you should check him out. Carlos leads worship at Buckhead Church in Atlanta, GA and shares an amazing, transparent openness about his faith and life on the blog.
Mark Lee also has been blogging over here, but it looks like he's having an "Old Yeller" moment and new things are in store, so stay tuned!
Image: Carlos Whittaker at Ragamuffin Soul