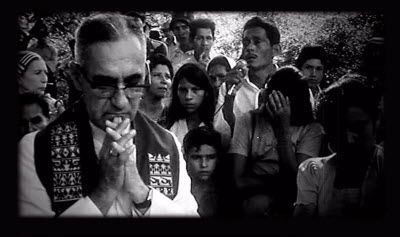 Today marks the 34th anniversary of the assassination of Archbishop Oscar Romero.  For the past year, through music, film and performance, we have sought to tell the story of this remarkable man. There are strong indications from the Vatican that he will be declared a saint in the not too distant future. He is, however, already recognized as both a martyr and a saint by millions around the world.
We are asking you to help spread his story – a story of faith and of courage, a story of what it means to follow in the steps of Christ. Even if you have seen it before, click to watch the video below… be shocked by the actual gunshots (recorded by a nun who was in the chapel at the time)… hear his words of hope that form the lyrics of the song.
Romero's message of social justice, non-violence and self-sacrifice are needed today as never before.  We're asking you to be partners in spreading that message.
"ROMERO" is the first single from The Project's special event album, "Martyrs Prayers." To purchase deluxe edition CD or obtain more information, please visit http://www.themartyrsproject.com.
All lyrics contained in this song are the transcribed prayers of Archbishop Oscar Arnulfo Romero (1917-1980). Romero was murdered in 1980 while celebrating mass in a small hospital chapel in San Salvador.
[youtube]https://www.youtube.com/watch?v=21CN815v2G0[/youtube]