Here's my review of a recently released film titled "Like Arrows". Although it is a average length for a feature movie, I'm not sure it comes across as a feature film instead of something more like an educational video or documentary of sorts. Before I dive in, here's the official press release and movie synopsis:
When conflict, rebellion, and resentment overwhelm their family, Charlie and Alice are forced to rethink their parenting strategy. In the process, they realize how critical intentionality and focus are when shaping and molding young lives. FamilyLife's first feature film explores the challenges and joys that come with raising children. Through a journey that unfolds over 50 years, Charlie and Alice discover the unmistakable power of family. Together, they learn that knowing and living by God's Word is what brings transformation and hope to any family.
Thoughts on the Film and Production
The first thing I'll say is that this is generally well produced video. It's got the support and partial guidance of the Kendrick Brothers (War Room, Courageous, Fireproof, Facing the Giants, Flywheel), so you can expect generally above par quality. It doesn't appear cheaply made or thrown together for the most part, but the overall pace and editing of the film seems to just try and cover too much in one effort. You follow through the life of Charles & Alice as we first meet them in a coffee shop and Alice is letting Charles know she's a few months pregnant with their child and she fears she's falling into the exact pattern of her own mother and life and starting a family out of marriage and they are unprepared. Charles comforts her and encourages her with excitement to become a father after the ideas sits with him for a minute and he ends up proposing to Alice right in the middle of the coffee shop to make things better, at least they'll be married.
From that point on we run through 50 years of their married life and the trials and struggles of newlyweds, new parents of not only their first child but two more by birth and an adopted daughter from China.
All the normal challenges of parenthood get covered: throwing blocks in the church nursery, talking back, bad manners, bedtime routines, watching daddy play video games, sneaking out for dates, drugs, workaholic-not-present-dad and stressed-out-over-reacting-wife.
Charles & Alice do their best, even have an encouraging couple that tries to help and point them to rely more on their faith and Jesus to help be the parents they need to be and raise their kids and point them towards Christ at the same time. One of my faults of the film is that it seems to imply they do go to church regularly, but aside from the nursery scene initially, we don't get to see this part of their life portrayed. Granted, I'm asking them to cram even more scenes into the crowded film as it is.
I don't want to give the entire plot of the film away as I do encourage the church (the people of faith, not the building or denomination) to support these types of efforts whenever possible. But basically crisis events occur, their's separation established between child and parents, they come back to their goals of raising Christian children thanks to a parenting seminar they attend and they setup the remainder of their lives and marriage of success and faithfulness.
I appreciate films like this as I believe the church needs to invest more into films that help and strengthen marriages and families in the church. I just wish we could achieve a new level of quality and skill with the efforts that are produced. I understand if the actors were more skilled they wouldn't be making these films, they'd probably be pursuing other opportunities with more mainstream projects. I encourage that as well. I believe one of the ways we as Christians are going to make an impact in Hollywood and in media is to infiltrate their ranks with quality, skilled professionals and work on changing the course and direction from the inside. The film will only be in theaters for two nights in May, click here to find theater and tickets in your area.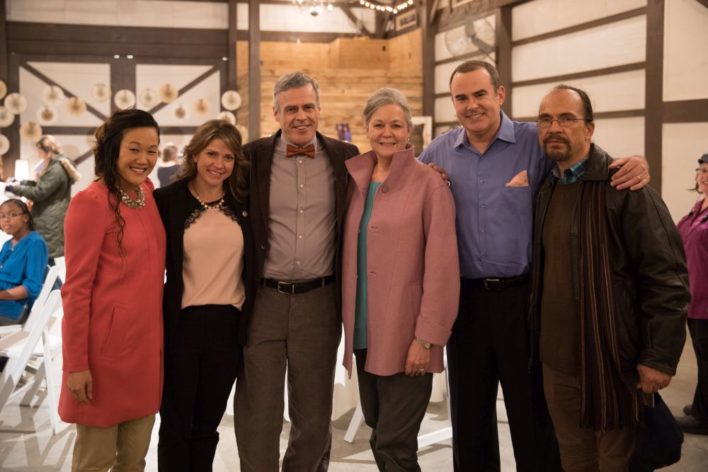 Words for the Church and Believers
The church needs to promote and pursue more efforts to step-into, encourage and develop marriages and families in faith. I continue to see far too many marriages within Christian households in the church suffer the defeat of separation, divorce and estrangement from siblings, parents, sons & daughters. We've got to start coming up with a game plan and start FIGHTING for marriages and family again and stop handing them over to Satan for the easy wins.
This movie comes across more as a devotional study guide. After a little research, I discovered it's origins were in small drama vignettes used by a church to promote a new parenting series. That's fine, I don't necessarily fault them. I just hope there were also plenty of hands-on engagement and discipleship in one-to-one settings and couples support. The product plugs through the scenes towards the end of the film start to wear thin as well.
A few of the key phrases that I really picked up on between Charles and his friend when they were talking about parenting was that we've been too busy showing our kids how to stay away from sin and avoid it instead of how to uncover it and deal with it in our lives. In the church we've learned really well how to hide our sin in our life instead of exposing it and dealing with it.
I don't think we need more programs for families and marriages in our churches, I think we need more people in the church burdened with savings marriages and families and getting involved in each other's lives for support, education, encouragement, accountability and love to help fix these issues.
Parenting Resources from FamilyLife
The film was produced as an extended resource for a parenting program developed, promoted and sold by FamilyLife. You can watch an informational video about those products below.
Disclosure (in accordance with the FTC's 16 CFR, Part 255: "Guides Concerning the Use of Endorsements and Testimonials in Advertising"): Many thanks to Propeller Consulting, LLC for providing this prize for the giveaway. Choice of winners and opinions are 100% my own and NOT influenced by monetary compensation. I did receive a sample of the product in exchange for this review and post. Only one entrant per mailing address, per giveaway. If you have won a prize from our sponsor Propeller/FlyBy Promotions in the last 30 days on the same blog, you are not eligible to win. Or if you have won the same prize on another blog, you are not eligible to win it again. Winner is subject to eligibility verification.