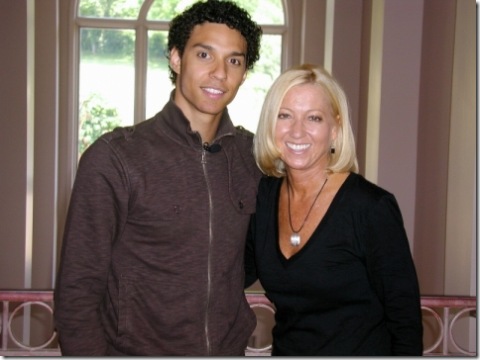 A first talked about Nate Huss a couple of weeks ago and have since been getting lots of information about him. I've got an exclusive interview I'll be posting shortly, but also wanted to share this bit of news.
Nate Huss will be the new voice for Mercy Ministries. He's shown above with Mercy Ministries founder Nancy Alcorn.
Something I just found out recently is that Nate was adopted and has never met his birth parents. He'll be appearing on the 700 Club sharing a bit of his story.
Read the full press release after the break
(Nashville, Tennessee) –July 30, 2007 – Nate Huss will be the major segment package tomorrow, Tuesday, July 31st. on CBN's "700 Club," as the broadcast explores the unique life 'behind the music' of the 22 year old Phoenix born artist who has never met his birth parents.

Given away at birth, Nate was adopted at three weeks of age as the newest member of the Huss Family of Phoenix—a devout Christian family whose remarkable household of eight adopted children were assembled from nationalities and countries around the world.

Nate's inborn passion for music led to a 2005 win at the Gospel Music Association's Music In The Rockies competition—a success that paved the way to Nashville, his signing with Slanted Records and his current position as one of the fastest rising young artists in contemporary Christian music. His debut album Here With Me released in May as a riveting self-written portrait of a young man who has discarded the anger, rejection and struggles of his early life to find his identity in Jesus Christ.

Positives that have already grown from Nate's music and ministry include his role this year as a passionate "voice" for the work of Mercy Ministries—founded by Nancy Alcorn—and now serving young women internationally. Noted Nate in a recent interview: "Because of my own personal road, I totally believe in and wanted to be a part of the work of Mercy. Their efforts to help young women struggling with destructive life patterns or making very hard decisions on unplanned pregnancies totally spoke to my heart. I'm thankful to a biological mother I never knew, and my mission is to help Mercy help other lives encounter a God of 'second chances,' as I did."

CBN viewers of the "700 Club" will tomorrow have a chance to view Nate and the Huss Family's personal story in an indepth segment produced by CBN producer Audra Rose Smith. She was intrigued from first hearing of the meaningful life history behind the music and immediately drawn to develop the story for CBN viewers. . "Because Nate's birthmother chose adoption despite her difficult circumstances, here is a powerful young voice resounding today in Christian music—a voice that engages minds for God with a message of substance. I wept when I heard his song "Your Own" which he dedicates to his birth mother. I knew his is a story that had to be told."

The "700 Club" airs nationally and a full list of markets and air times can be resourced online at: http://www.cbn.com Nate Huss will be spotlighted online tomorrow on the CBN website as well as their companion CBN music website.

A portion of the proceeds of the sale of his album Here With Me are designated to support the work of Mercy Ministries. Nate's current single from the album, Hold Me, is currently impacting at Christian AC radio.

Resource Nate Huss online at: http://www.natehuss.com/

For further information on the work of Mercy Ministries resource online:
Don't forget! Stay tuned for my exclusive interview with Nate that will be posted later today!
Technorati Tags: adoption, Mercy Ministries, Nate Huss, Nancy Alcorn, pregnancy, abortion, foster parents, birth mother, 700 Club