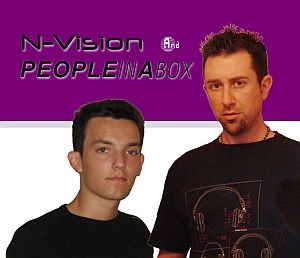 Here's a press release from a friend of mine that just released a new song. Kurt Kirton and Patrick Lake (on guitar) and I were all in a men's Bible study together during my days of living in Nashville after college. Man I miss hanging out with these guys. Glad to hear they're still keeping busy.
NASHVILLE, TN – 8 Jan. 2008: N-Vision (Aurora, IL) and People In A Box (Nashville, TN) have teamed up to release a new high energy trance single.

"Ionut (N-Vision) was the winner of our 'Since You've Been Gone' single remix contest last year," says band founder/producer Kurt Kirton of People in a Box.

Subsequently, I commissioned him to mix the remix I had done for electro-rock band Spektral Motion. We have enjoyed working together so much that we thought it would be a shame not to do at least one more project. Up and coming artists like N-Vision really excite me–someone who is talented, ambitious, responsive, and willing to learn the music business. He is very talented, and I feel there is a lot of potential for N-Vision as he continues to release new music and pursue other opportunities in the dance/club world."

N-Vision had actually been introduced to PIB before the remix contest. "I read about their single 'Take Me' [which spent at least 6 months in medium rotation on XM Radio] on www.tastyfresh.com, listened to it online, and thought, 'This is impressive stuff coming from a faith-based group.' So it has been fun and encouraging getting to know Kurt and working with PIB on several projects."

"I'm In Touch," the title cut of obscure 80's Swedish pop artist Simon Adahl's only solo project was at the top of Kirton's covers wish list. "Being that this would be a collaborative effort, I thought it might be good to do a song that neither of us had written and could invest in equally," says Kirton. "I recorded vocals here in Nashville to a scratch track that Ionut recorded, then mailed those tracks and my notes up to him. Between my production and singing and his programming and mix abilities, it's a good synergy, and I think we've come up with a hot dance track."

Jan. 11th, fans can hear or purchase the "I'm In Touch" mp3 via: iTunes, Rhapsody, or www.beatport.com. Special online-only singles are also available at www.beatport.com. And don't forget, you can still buy and preview full CD's by People In A Box and N-Vision via their web sites!

– PEOPLE IN A BOX – www.peopleinabox.com (then click to the Music page)
– N-VISION – www.n-visionmusic.com

People in a Box's video for "Together" is now available at YouTube!
Follow the the jump to view the "Together" video now.
Here's the YouTube video!