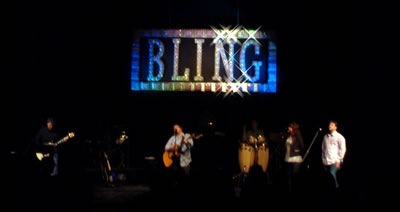 We're starting a new series this week at church. Probably a good time to start right since it's the first Sunday of the new year. As you can see from the photo above the series title is "BLING". Obviously a connection to financial responsibility and stewardship.
The walk-in music included "Fabulous" from High School Musical 2 and the worship band fired up "Money" by Pink Floyd.
Our worship set consisted of the following:
Make a Joyful Noise
I Will Not Be Silent
Famous One
Holy Is the Lord
Agnus Dei
What's your church doing to start off the new year? Would your church ever play a Disney or Pink Floyd song during your walk-in music?
Oh, and you wouldn't believe what our "BLING" set piece is made from that's hanging on our back wall.