I grew up hearing people say, "I come to church to hear God's word and apply it to my life." I understand the thought but I'd like to suggest something.
Here's what I think; scripture is a constant and you are a variable. The bible doesn't change but you do. Rather than taking scripture and applying it to our lives, we should be applying our lives to scripture. Here's why; I am evolving. I'm still learning to hear God's voice and change direction as He prompts. Scripture is God's word to us and for us; we should take great care of it. Many mistreat it; twisting it to suit their motives. But the bible isn't a weapon to wield for our desires or causes.
So, I am a variable – ever changing and learning. God's word is a constant – it does not change.
It's storming where I live today and it made me think; many people don't know who to turn to during the "storms of life". When those "storms" happen (and they will) we need to trust in the One that doesn't change.
So, if you're in a storm, here's a prayer:
Lord, help me see Your word as a living breathing thing, not a tool to abuse, hurt or judge poorly. Help me trust in Your constancy. When the storms happen, help me to cling to You.
Hoping and trusting with you,
Matt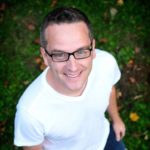 "Your word is a lamp to my feet and a light for my path." – Psalm 119:105
Matt Hastings lives with his wife Keri and their five children in Tullahoma, Tennessee. He is the pastor of the Estill Springs Church of the Nazarene. [Editor's Note: Matt has graciously allowed us to republish his weekly email devotionals on our site for our readers.]