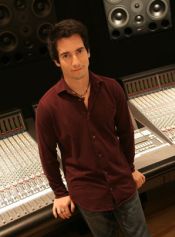 Just received an alert about my good friend and old roommate Fred Paragano and his Paragon Studios down in Franklin, TN.
Fred has worked with a tremendous number and quality of Christian and other music artists in the industry. He's making news now because of the cutting edge and current technology he's continually offering to his clients in his studios.
Upgrading the digital audio workstation-based Studio B was a necessity, says Paragon Studios owner and President Fred Paragano. "In the course of operating the studio, we needed a studio system that could handle the diverse and growing needs of our clients," he comments. "Our goals in expanding our successful post-production business required the type of facilities offered by the C300 system.
Congratulations Fred! I've got to get down there and visit your studios sometime. You've definitely come a long way from the Sound Kitchen and the 3rd bedroom in our apartment for your production work.