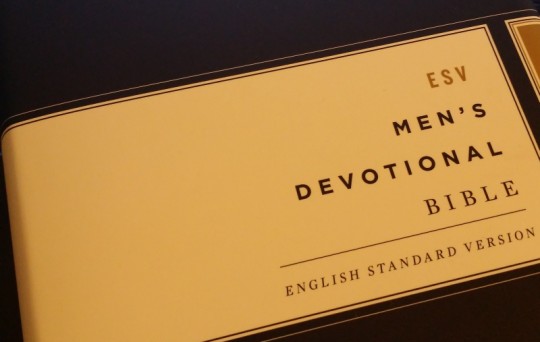 It's been awhile since I've even really thought about picking up a new Bible. The main reason is because since I've had my smart phone or Kindle, the majority of all of my Bible reading is done on my mobile device. I enjoy the convenience of having the Bible in digital version available at my fingertips, with all the translations and quick access to the Internet to do a quick search on something I just read. But, sometimes you need to hold The Word in your hand as you read it and digest it. Do you agree?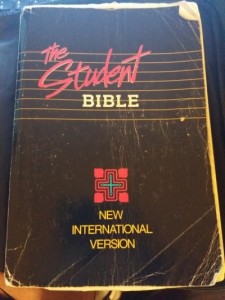 I had the opportunity to take a look at the ESV Men's Devotional Bible from Crossway through a Fly By Promotions and Propeller. It was interesting to hold a new Bible in my hand after so many years. To give you an idea, here's a photo of the last new hardcopy Bible I own and have used for years. As you can see, it's fairly old and wearing out. That had been my Bible through my teenage years and college, up to the point of my smart phone and YouVersion app.
This ESV Men's Devotional Bible has some nice features that you'll find in most Bibles, but the devotional aspects of this one I really enjoy. There are 365 individual devotions available within the printing but also a collection of articles on a variety of topics like "A Man's Identity", "A Man's Inner Life", "A Man's Work", "Marriage", "Fathering", and "Leadership". Some of those topics have definitely grown in my interest since the days of my last Bible journey.
Here's a brief introduction about the ESV translation itself. I grabbed this from their website at www.esv.org:
The ESV Bible is an essentially literal translation of the Bible in contemporary English, emphasizing "word-for-word" accuracy, literary excellence, and depth of meaning.

Well suited for personal reading, public worship, in-depth study, and Scripture memorization, the ESV is available in more than 200 print editions, e-book formats, free online at ESVBible.org, through the free ESV Bible mobile apps for iPhone, iPad, and Android devices.

Since its publication in 2001, the ESV has gained wide acceptance and is used and trusted by church leaders, numerous denominations, and millions of individuals around the world.
I'm a preacher's kid. And most PK's will agree with me that sometimes when your dad started a new church some of his sermons would get recycled for the new congregation. When that occurred for me I would begin exploring my Bible. I would read all the content surrounding the actual Biblical text that was available. I particularly enjoyed the introductions that were available before each book that gave me a context for what I was about to read. And when I would be reading passages in the Bible, I loved having footnotes available to help explain or expand on what was being said. The ESV Men's Devotional Bible has all of this for me.
| | |
| --- | --- |
| Devotional (Click to Enlarge) | Footnotes (Click to Enlarge) |
There are only two things this copy of the Bible had that I wish were different. It's a hardcover and the pages are very thin. I realize the page thickness is more a potential feature for keeping the overall mass of the book as small as possible. But many times I wish the pages in my Bibles could be a bit thicker. If you gave me a Bible with thicker pages, I might end up changing my mind on that request though.
For more information on this Bible you can visit their official website and social accounts:

OFFICIAL WEBSITE | 

 FACEBOOK | 

 TWITTER | 

 INSTAGRAM | 

AMAZON
Here's the great news! If you've been looking for a new Bible, I've got another copy of this one to giveaway to one of our readers. Just leave a comment below and/or share a link to this post on your social media channel. Be sure and tag us @MissionNotes if you do and use the appropriate hashtags for this giveaway #MensDevotionalBible and #FlyBy. Our winner will be chosen the end of next week!
Disclosure (in accordance with the FTC's 16 CFR, Part 255: "Guides Concerning the Use of Endorsements and Testimonials in Advertising"): Many thanks to Propeller Consulting, LLC for providing this prize for the giveaway. Choice of winners and opinions are 100% my own and NOT influenced by monetary compensation. I did receive a sample of the product in exchange for this review and post.
Only one entrant per mailing address, per giveaway. If you have won a prize from our sponsor Propeller / FlyBy Promotions in the last 30 days, you are not eligible to win. If you have won the same prize on another blog, you are not eligible to win it again. Winner is subject to eligibility verification.