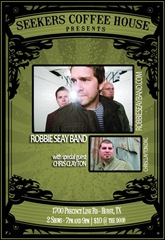 Attention all you people in the Hurst, TX area and patrons of Seeker's Coffee House. Robbie Seay Band and Chris Clayton will be in concert there on April 3 and will perform two different shows at 7pm and 9pm.
Here's the specifics:
Robbie Seay Band w/ Chris Clayton
Friday, April 3
2 shows: 7:00 pm & 9:00 pm
Seekers Coffee House
1700 Precinct Line Road
Hurst, TX
Cost: $10
Click on the poster above to enlarge and print out if you'd like.
You can use the map below to find where you're going, but once you get there you gotta take some pictures and let me know how the concert goes. Would love to be there myself but trekking out to Texas just won't happen.