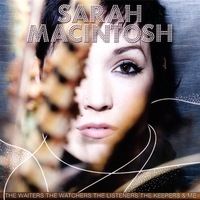 I guess it's a pretty good problem to have in that I'm getting introduced to so much great music I can't keep up. The latest album for me to review comes from Sarah MacIntosh and the album "The Waiters, The Watchers, The Listeners, The Keepers & Me".
Perhaps the longest album title I've ever seen, but perhaps it's a reflection of the depth of good music on this album.
After doing some quick background searching about Sarah I've found that she used to be the lead singer for a group called "Chasing Furies", which you may be familiar. If so, then you're aware of the great voice that Sarah has to share with us on her own album. I don't remember ever listening to Chasing Furies, so my experience in hearing Sarah on this album is as a completely new listener.
One of the first thing that hits me as I listen to this album is the crystal clear vocals from Sarah who sings with such an ethereal and angelic voice, it's really captivating. It's one of my favorite qualities in a female artist and Sarah delivers with force and emotion on this album.
If you've been reading this blog long, you also know that one of my other favorite qualities is the lyrics of songs and how they speak to me. I love listening to songs where the lyrics start feeling like an extension of my own consciousness.
Listening to this album by Sarah, which I've been listening to now for quite awhile, her lyrics have morphed themselves into my prayers and praise that I lift up during my daily commutes in the car or while I'm working on my computer.
Amazingly, each song on Sarah's album connects with me in some way. The 12 songs on this album include:
Where You'll Find Him
My Jesus
Did You Know
More Than Hands
Pick Up Your Cross
Sunshine
Be Glorified
Too Much
Keep Watch Over Me
Stop! Stop!
Just Tell Me
Father
If you're curious about her sound, perhaps Sarah's own words can help you with as these were on her MySpace page:
If you could hear my mother sing you would know how I came to sound like I do. My voice is most definitely hers. The music on the other hand might be described as Radiohead meets Sixpence None The Richer after listening to a bunch of Peter Gabriel.
Other artists that come to mind for me are Tiffany Arbuckle of Plumb, Sarah McLachlan, Jonatha Brooke, Christine Dente of Out of the Grey, Amy Grant, and Susan Ashton.
Here's a video of her performing
It's not the best video and audio quality but it gives you an idea. You can also listen to a few of her songs on her MySpace page.